Saturday Gone with The Wind

After running to the Library and picking up the books I had requested on-line ...
I was off to do another volunteer shift at The Egyptian Theatre .

One thing that is nice this time of year, is that everything is in bloom. Driving around on a sunny Saturday, everything looks so pretty.
Even surrounded by concrete in a city like Hollywood, Spring has sprung.....




Tonight the Egyptian was playing
"Gone With The Wind" ... Full-length 222 minutes, with an intermission.
Of course, I sat in the balcony. The perfect place to see such a great classic movie.





Smog Check, Austin Powers and Norma Desmond

I took today off as a vacation day. I figure with Monday being a holiday it would be a nice way to get some extra relaxation. Besides I needed to run some errands.

One of which was the very painful..... Car Smog Check for my Automobile registration.
I really didn't think I would pass. The car is so overdue for everything.
But I did pass... just barely..... by a few points that was it. The guy told me I need to make sure I came back for a Tune Up, Oil Change and Break Job - all of which I already knew I needed.

As I was waiting for my car, I saw this beautiful reflection of a church steeple on an office building wall :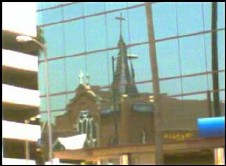 After I was done with all the necessary Automobile stuff, I headed over to the Arclight to see Sin City

After I parked in the Arclight parking structure, I headed over to the elevators to go down to the lobby level. When I got to the elevator, there was a guy standing there dressed exactly like "Austin Powers" .

I was thinking "Oh, no I have to ride in the elevator with this weird person".
We are in the elevator and he said something ending in "groovy"... and I said "Oh, looks like Arclight is having a Special Event today." - referring to his costume.
Austin Powers replied "Oh, no special event ... every day's a special event ... its all groovy baby."
I must have had a look on my face that said "Oh great I'm in the elevator with a kook" ... because Austin continued "Actually, its alittle boys birthday party .... we're going to see Madagascar and then we are riding in a Limo to a pizza parlor".
I said "Oh, that sounds like alot of fun".
So Austin Powers wasn't a kook after all. He's just an out of work actor performing at children's birthday partys.
As Austin-in-the-Elevator said "Yeah, its all groovy".

As I was buying my tickets, the sales clerk mumbled "Why is there a guy dressed like Austin Powers in the lobby?"
I replied "Oh, he's doing a children birthday party at the Madagascar screening."
That satisfied the ticket clerk.

As for Sin City .. .I am so way behind on my current movies. I haven't seen anything in ages. And I think this is the last place to play this movie I really liked alot of the actors in it, so I wanted to see it. Wow, was that a wild movie. It felt just like being in a graphic novel or detective comic strip.

Then later on in the evening, I went to the Egyptian to see "Sunset Boulevard".
It was nice to go to the Egyptian and be a patron for once. I used one of my vouchers from when I was Volunteer Captain, and got to see the movie for free.
The theatre was really packed, they had a huge turn-out for "Sunset Blvd".
Oh, my favorite line :
When Joe says to her "You're Norma Desmond. You used to be in silent pictures. You used to be big"
And Gloria Swanson replies:
"I am big. It's the pictures that got small."




Audition in West Los Angeles

My agent called me yesterday afternoon to tell me that I had an audition for a commercial. It was at 11:00 out in West L.A., well, practically Santa Monica. It was for a Beer Commercial and I needed to wear black.


Since my agent called after my boss had left for the day yesterday, I left her a voice mail and an email - apologizing profusely for missing a department meeting. But promising to talk to other employees and get notes from the meeting.... and oh, I am so very very sorry, yes I am, that this happened.

I drove the nearly one hour drive into West LA. And of course, there was Street Cleaning today. So finding street parking was extra hard.

Then once I got to the Casting Studios, I managed to get alittle lost because their was a cardboard note scotch-taped to the Board for a completely different audition, stuck to the board right next to the audition room where I was supposed to be. This made me run Upstairs, when what I needed to do was be downstairs. I was kind of embarrassed, because there was another audition going on upstairs and they were getting alot of lost people showing up. The man asked me "How did you get misdirected?" I replied "Oh, there's a piece of cardboard scotch-taped on the board saying go to the second floor."

Once I found the right room, I signed-in, and waiting my turn with a large amount of other people auditioning for the Beer commercial. We were to lip-sync to a recorded song about the beer for our audition. They had a tape set up in another room so we could go over the lyrics and music.
All in all my time waiting was very pain-less, and non-eventful, with everyone patiently waiting their turns. All of us dressed in black as we were told to do. Image about 50 to 100 people of all shapes and sizes and races and whatever ... but everyone dressed in black.

When my turn came, they put us in a group of about 6. They had us put on black choir member robes. They played the tape as we auditioned. And we lip-synced with the music. Some people in our group actually really sang along with the tape instead of lip syncing. I thought the whole thing went pretty well.

Before leaving, I stopped by the casting director mail slots, and put a few of my pictures in the bins.

I got in the car to go back to work. Decided to stop off at my old PO Box just to see if there was anything there. And then I passed Big Tomy's on Pico and Sepulveda. I decided to get a few orders of Fried Zucchini to take back to the office to make up for missing our department staff meeting. Their Fried Zucchini is really good ... and only $2.50 for a big serving.
Coworkers were asking "And why did you bring us Fried Zucchini?"
"Because I feel soooo bad about missing the department meeting."

And of course, since I didn't make it into the office until 12 noon .... I was there working away until 8 pm.



Wednesday, May 25, 2005

The Cat and Her Lizard



Cinnamon the Cat had alittle friend staying over at our apartment, whom she neglected to tell me about. Looks like my Pet had a Pet.


Early this morning as I was leaving for work, I noticed Cinnamon. I had left the Duster laying on the floor by the phone last time I was cleaning around the apartment. It was just some poofy stuff on a long handle that I used to dust with.
Cinnamon was biting at it. Not really playing with it. Like she was trying to grab it with her teeth.
I picked it up, and threw it down on the telephone stand next to the telephone.
"Cinnamon, stop playing with that. Its not one of your toys".
Cinnamon laid down on the couch and gave the Duster no more attention.

I come home tonight. I notice the little light blinking on the phone to say I have a message.
I pick up the phone and am listening to the message, when I look down at the Duster and scream !
There is a greenish-grey Lizard sitting right on top of the duster.

I start to panic. I call the landlord, no answer. I can't tell if its dead or alive.
I tap at the kitchen counter. I think I see it move.
I can't deal with this myself. I am an animal lover, but I don't know anything about Lizards.

There are two 20 something year old guys that live in the next two apartments over. I knock on the first door, but he's not home - he's never home, who knows where he really lives. So I go down to the next apartment and knock "Hi,its your neighbor from Apt #. I hate to bother you, but there is a Lizard in my apartment."
The 20 something year old guy answers the door.
I repeat "There is a Lizard in my apartment, would you mind helping me with it ?"

He comes over. He looks at the telephone stand.
"Wow, there is a Lizard in your apartment."
I say "I don't know how it got here."
He asks "Did your cat bring it in?"
I'm like, "No, she's an indoor cat. I usually keep the duster under the sink, so maybe it came through the pipes somehow".

I am wondering if the Lizard was actually on the Duster when I was actually dusting. Poor thing.

We take the Duster out to the front of the building. My neighbor shakes the Lizard off into the bushes.
He hands me the Duster. I say "Oh, I am throwing this away, yuck".
And I say to my 20-something year old neighbor "Thanks for helping me with that. I never would have been able to handle it myself."

Nice 20-something young man, helping a middle-aged woman get a Lizard out of her apartment.

About an hour later, once the panic dies down, I think "Oh, I should have taken a picture with my new cell phone camera." Funny how I didn't think of that while I was panicking.



Tuesday, May 24, 2005
Left on the Cutting Room Floor


Everytime you do something in the Acting Biz, you learn alittle bit more. Yesterdays experience was really great. I learned alot about filming a real TV show. I got to do the thing I love, Acting, and get paid for it. I mean, just when everything had slowed down and I didn't appear to be getting auditions - Boom ! - I get a gig on TV.
So, I keep repeating these points over and over - Because the segment I did, never made it on the Air.


All my friends and relatives and fellow-volunteers and co-workers were on the look-out. Pretty much everyone I know on the planet. One friend of mine was ready to tape it for me so I had a copy.
But I heard this morning that Jay Leno was at the courthouse that very morning - and it passed through my head that this could be a problem.
The way they had the show scheduled is that Mondays testimonies would be filmed with Actors doing the reenactments on Monday night. And then that segment would air on Tuesday night. So likewise on and on the rest of the week: Tuesday testimonies, filmed Tuesday night, airing on Wednesday night, and on and on.
I checked the website to see if there was any news and I saw one a segment of one of the other women who I had dinner with. So I figured it would all be okay.

Then my friend who was taping it called. He has Direct TV, and the show was set to air at 4:30. He called and said "Well, I'm watching it, but its all Jay Leno".
I said "Oh, no, thats from this morning. They skipped my day."
Then my sister called me. "Its all Jay Leno."
Then a few emails "I only saw Jay Leno".

Well, I guess a celebrity like Jay Leno is much more interesting that the Auntie that I portrayed.
I just told my friends and relatives, "Well, they skipped my day. Looks like they aren't using my segment".
Maybe it will turn up on a "highlights of" show. I told my friends I would keep a lookout.

One funny thing ... an acquaintance came up to me and said "Oh, I got your email, I went to the website. I downloaded your performance. It was really great. I loved it."
I gasped "Its on the internet ! You saw it on the website? Where ? Where ?"
This person replied "Ah, um, isn't that what your email said ? Um, to go to the website to download it."
And then this person turned beet red.
Obviously, they hadn't read the email very closely. And they definitely didn't watch my performance anywhere.
I let them slide, by changing the subject.



Monday, May 23, 2005

Filming A Television Show

I though it was going to be just a typical Monday. I was sitting at my desk at the office keypunching and coding invoices. About 3:00 ish get a call on my cell phone,
and since I don't recognize the phone # coming through... I don't pick it up. They leave a message, "Hi, Donna, This is Steve from Ricki Maslar Casting . I wanted to bring you in to audition for a role in Michael Jackson Trial Reenactment on E! Entertainment Television. I need to see you right away, and you would be filming tonight".
I call him back right away and we make arrangements. I am to stop off at my apartment and get a white shirt. Then drive over to his offices in Universal City for an audition.

The bummer is that my boss is not in the office today, and I am helping with some of her work. My boss' boss is on the phone. I quickly send him an email saying I am leaving - but if filming is finished before 10 pm, I will come back to the office. I tell two other employees what has happened and I take off.

After stopping at my apartment and digging through the clothes in my closet, I rush to the casting offices in Universal City and make it there around 4:15. Since they don't have the transcripts from todays trial yet, Steve has me read from another witness's testimony to get a feel for my voice. I read it the way I would say it
if I were on the witness stand. Then Steve asks me to say the lines with authority, then say them with a really bad attitude. I am assuming he wants to see if I can
do different things with the same dialog, since it is an unknown what the director will require. He tells me I have done a really good reading, and he is pleased with it. But he has me in mind for a different character than the one he brought me in for. He asks me to wait in the lobby, and I take the opportunity to run to the ladys room.

When I get back Steve is still on the phone with E! Entertainment. When he gets off he shows me a pictures from online of the Witness that they are having me reenact, Marion Arvizo. He tells me to stop by my apartment and get a similar outfit to what she is wearing, a black scoop neck with a jacket. And then gives me the address to E ! Entertainment and tells me to get there right away. There is another women in the lobby who is there for an audition as well.

After stopping off at my apartment in Hollywood again. I drive over to the E! Entertainment offices on Wilshire Blvd in Beverly Hills as fast as I can. I normally am a pretty slow driver, and it is rush hour. I make it there about 6:30 pm. Just in time to miss the dinner they were feeding us. Oh well, I ate a South Beach Diet Cranberry Cereal Bar in the car on the way over.

I wait in the fancy modern lobby for the assistant to come and get me. They take me to the Green Room where I put the bag of clothes I brought. Then they take me to the dining area, where dinner is just winding down. I grab a Diet Coke , and I meet two other women in my age range who are re- enacting two other witnesses from todays trial. One of them was the women who was in the Casting office as I left. We sit at a table and chat about the acting biz, and how we got cast in this. We all seem to get along really well, so this should be a nice evening.

After eating, one of the other ladys get called into make-up. The second woman and I decide to head back to the greenroom. As we walk down the hallways we see other actors in makeup and wardrobe. Its all pretty exciting.
We sit in the green room, and chat and watch TV. One of the assistants bring us all the legal paperwork to fill out, W9s and whatever. I am surprised to find that in addition to my drivers license, that my social security card is actually in my purse. I didn't even know I had put it there. Thats good, now I know my paperwork is finished.

Soon, it is my turn to get called into Make-up. I sit in the chair and the Make-up artist puts hot rollers in my hair to make it curly. Then she tweezes my eyebrows to make them thinner like the Witness that I am reenacting. And she trims my bangs. Hey, I'm getting alittle mini-beauty treatment while I am getting ready to shoot my character.

I finally ask one of the assistants if there is a tape of the women I am portraying, or some way I can tell exactly how to act like she does. It turns out no - thats why they are doing Trail Reenactments on TV, because no cameras are allowed in the courtroom. All we have are the pictures that are taken as they go to and from the Courtroom and then posted on the internet news. She brings me one of the scenes I will be shooting so I can read over and get a feel for my character.

We start to pick through all the clothes I brought, and they seem really happy that I brought a selection of wardrobe. I brought everything that was dark with a scoop neck that I own.

Here is a Pic of me portraying the Witness Marion Arvizo :



Here is a Pic of Marion Arvizo from the internet news:



Finally, it is my turn to go on the sound stage. The assistant gets me a bottled water, and we walk toward the filming area. Wow, I feel like a Real Actress, with an assistant holding my water bottle and everything. This is so exciting.

We get to the Filming area. Its set up just like the real courtroom. The judge, lawyers, jury and everyone is there - even the actor playing Michael Jackson. The Director comes up and introduces himself to me. I go sit in the witness stand. The other Actors say their hellos and greet me. Everyone is really nice, with great attitudes. You can tell they are all having a great time filming this show.

The Director gives me the scenes to read over. But there is a Teleprompter to read over the shoulder of the lawyer who is asking me the questions. I have never read from a teleprompter before. It wasn't as hard as I thought. Except at the points were I had to stammer or change my train of thought mid-sentence. I am sure there are parts where I look like I am reading, but I got used to the teleprompter very quickly.

The first funny thing that happened was the actor playing the lawyer kept leaning over to far and blocking the Teleprompter. And I kept messing up because I couldn't read the words. And being the new Kid on the Block here, I didn't feel comfortable telling the other actor he was blocking my view. Finally the third time, the Director laughed and said "Is he blocking the Teleprompter?" and the actor moved over alittle to the left, and they moved the teleprompter alittle to the right - and everyone chuckled about it.
I thought, oh, these people are really nice - this is a great experience.

There were about 5 "scenes" I had to do. Testimony from today's trial. Each scene was at the most one and a half pages long. I would read over the script, then tuck the pages out of site. Then we would film and I read from the teleprompter.

We finally got to one scene, where the Lawyer questioning me asks "Are you okay ?" As I read the script, I called the director over and asked him "What is going on here ? He is asking if I am okay. Is she upset ? Do you want me to cry or yell or what ? "
The Director stopped, and looked at the script and said "Wow, you caught that. That is really good that you caught that. What was your name again?"
I said "Donna"
He said "And your last name?"
"Grayson".
So me, the director and the actor playing the lawyer had alittle chat about why he would ask her if she was upset.
Finally, I said to the other actor, "Okay I will get upset in this scene".

One of my lines has a cus word, then I say something else - both of which I got very upset, raised my voice, kind of mad yet crying. I am sure for the situation
I really over-acted.
The other actors thought it was great. They all applauded. "Keep it, Keep it" said the actor playing Michael Jackson. I am sure since they are acting in a Trial, most of the day is like an actual courtroom - so getting some emotion in the room livens things up.
The actor playing the lawyer said "That was really good. What is your name again?"
"Donna Grayson".
Wow - I really got a chance to ACT.

It appeared that the Director was talking to people on his headset. And they were figuring out what to do. The next time I did it, I played it more sad and crying, kind of whimpering.
Then the Director seemed to be talking to people on his headset again. And they asked me to do it very low key, like I was trying to hold all the emotions in.

After that, it was one more scene. And the Director said "Thats it, you're done".
I was shocked, I was sad. I wanted to keep going.
All the other actors went "Awwwh" and applauded.
I said "Thank you. This has been really great."
The actor playing Michael Jackson asked me to sign his board, which I did.
And one of the Lawyers walked with me over to the Makeup area to get the rest of my things, stopping at the munchie table to grab some snacks. The makeup lady asked me if I wanted to take my stage makeup off. No, I was keeping it on until I absolutely had to take it off.

In the makeup area, the last Witness was getting her makeup done. I grabbed my things and they signed me out.
One of the other assistants walked with me and the first witness to the elevators. The two of us road the elevator down to the parking area and chatted about our experience playing Trial Witnesses. The other actress seemed really really tired. She said it has been a really long day for her.
It was along day for me too, and since it was only 9 pm - I was heading back to the office to do more work. I was totally wired. Completely flying and soaring. Almost psycho wired. And the only caffeine I had had was right when I had arrived.
I wondered if it was my Hypoglycemia and made a mental note to mention it next time I was at the doctors. I mean, I was flying on adrenaline and there was no coming down.

I got to the office to continue keypunching invoices into the computer. We are in a security highrise, so its ok to be there. One other coworker was still there, and they were surprised to see me with my hair all curly and all the stage makeup on. I told them all about my experience today.
Its a good thing I went into the office to do more work. If I had gone home to my apartment, I would have literally been bouncing off the walls. I can't remember ever being this wired on adrenaline before. It felt alittle weird, and I was alittle worried about it. Needless to say though, I sure got alot of paperwork finished.
Then my brain started to get tired. My eyes were alittle strained. But my body was still flying. I went home about 11:15.

When I got home I emailed all my friends and relatives and told them to watch E! Entertainment tomorrow night. I posted it on the website.
I figured they can't show all my scenes. Especially since there are other witnesses on the stand that day. But I figured I would at least have four lines on the tv set. I was so excited.

Trying to un-wind. A glass of wine, or two. Laying in bed reading. I finally fell asleep at 2:30 am in the morning.

What a fantastic day !

---


Catch My Performance on TV Tuesday Night

I am in Tuesdays edition of the Michael Jackson Reenactment on E ! channel.
It is at 7:30 Tuesday 5/24/05 night ... thats Los Angeles time so check your local listings.

My characters name is Marion Arvizo... and she was planning the blood drive for the little boy. She was a witness at todays trial.

You'll get to see me all fixed up with a curly hair-do, as I portray this person on TV.
(Not THE character, because they only had the transcripts, no one saw how she actually behaved on the witness stand. So I had to wing it. )

Here is the Website for the Show

Here are pictures of the woman I am portraying: Marion Arvizo

I will post more about my experience in a few days. Right now I am really tired from my long day. But I will tell you the whole story about how I got cast and everything,
very soon. I still have a few days of blogging to do, so I will get caught up soon. Please check back for the rest of the story.
In the meantime, I hope you get to watch the TV show.



Sunday, May 22, 2005

MR&MRS Smith Know How to Advertise

Has anyone else noticed the unusually large number of billboards in Hollywood for the movie Mr. and Mrs. Smith starring Brad Pitt and Angelina Jolie ?
I did, and its really bugging me ... so I decided to drive around a photograph the objects of my frustration.
Most pics are taken as I am driving past with traffic behind me, so excuse the quality... but you get my drift ....
Ok... I understand that they want to advertise but this is ridiculous


Sunset Blvd at Bronson -northwest corner - driving West


Sunset at Vine - southeast corner - driving west


Cahuenga at Sunset... over the Jack in the Box - driving north


Argyle north of Hollywood Blvd - west side of the street - as you head to the 101 freeway going north


Vine at Santa Monica Blvd - southeast corner - driving South




Santa Monica Blvd at Vine - southeast corner - driving East



Its just bizarre to me, that the corner of Vine and Santa Monica has two billboards on the southeast corner, each facing different directions.

I guess the people behind Mr & Mrs Smith feel that the area around Vine Street in Hollywood is prime marketing territory for their movie.

Do you know of any other Mr & Mrs Smith billboards in Hollywood ? Leave a comment with the location, and I will try to drive past and snap a pick. This is just driving me nuts .....

****




Update - Thursday 6/2
I found another one - this one is one the corner of Selma and Vine
Driving North



Church, Movies and Books

I wasn't even sure what church to go to today. Or if I was even going to go to church at all. I just didn't feel like dealing with all the problems there.
But later in the week, I had received some emails from Hollywood Presbyterian saying that they were indeed still having The CUE Service . They have moved it out of the nightclub, and into the warehouse about 3 buildings down, which is alittle bit of a smaller place.
They asked for people to volunteer and help out, and I just did not make it there in time. But it was a nice service, and I really enjoyed it.
I felt like I was in the right place for me. I like the fact that they seemed to emphasize that they were still having the modern format church service and that it was definitely part of the larger church. Thats exactly what I am looking for, a modern church service with a large church behind it.
After the service, they had a question and answer portion for church members who wanted to ask about the CUE service. I stayed as long as I could but it was running late. I had to leave early and do other things.

At the last minute, I had decided to volunteer over at The Egyptian Theatre
The movies were Spanish Cinema Sound of the Sea and Volaverunt both directed by J.J. Bigas Luna .

I ended up being Captain, which means I have to hang out in the lobby for the entire movie. So I didn't get to see them. Basically, I get to sit and read. And when someone comes to the front door, I try to help them out, give them a calendar and answer their questions. Its mainly customer service while the movie is playing.

I finished reading
How They Cast It : An Insider's Look at Film And Television Casting by Rob Kendt

And I started reading
Larry Moss' book The Intent to Live : Achieving Your True Potential as an Actor

Here are a few other books I have recently read:

The Whole Equation : A History of Hollywood by David Thomson

eBay for Dummies

R is for Ricochet by Sue Grafton

The Perfect Hour : The Romance of F. Scott Fitzgerald and Ginevra King, His First Love by James L.W. III West

Bird by Bird : Some Instructions on Writing and Life by Anne Lamott

The Sexy Years: by Suzanne Somers

Blessings by Julia Cameron

All of these great books, were courtesy of the wonderful Los Angeles Public Library
Yes, I do read alot. I love to read. I just with I had more time to do it.

Anyway, once my volunteer shift was over, it was really late, and I was really exhausted. I had a long day, nearly over 12 hours being out and about.




Archives
08/26/1990 - 09/02/1990 12/07/2003 - 12/14/2003 12/14/2003 - 12/21/2003 12/21/2003 - 12/28/2003 12/28/2003 - 01/04/2004 01/11/2004 - 01/18/2004 01/25/2004 - 02/01/2004 02/01/2004 - 02/08/2004 02/08/2004 - 02/15/2004 03/07/2004 - 03/14/2004 04/18/2004 - 04/25/2004 05/23/2004 - 05/30/2004 05/30/2004 - 06/06/2004 06/06/2004 - 06/13/2004 06/27/2004 - 07/04/2004 08/22/2004 - 08/29/2004 09/05/2004 - 09/12/2004 09/26/2004 - 10/03/2004 10/10/2004 - 10/17/2004 11/14/2004 - 11/21/2004 12/26/2004 - 01/02/2005 01/02/2005 - 01/09/2005 01/23/2005 - 01/30/2005 01/30/2005 - 02/06/2005 02/06/2005 - 02/13/2005 02/13/2005 - 02/20/2005 02/20/2005 - 02/27/2005 02/27/2005 - 03/06/2005 03/06/2005 - 03/13/2005 03/13/2005 - 03/20/2005 03/20/2005 - 03/27/2005 03/27/2005 - 04/03/2005 04/03/2005 - 04/10/2005 04/10/2005 - 04/17/2005 04/17/2005 - 04/24/2005 04/24/2005 - 05/01/2005 05/01/2005 - 05/08/2005 05/08/2005 - 05/15/2005 05/15/2005 - 05/22/2005 05/22/2005 - 05/29/2005 05/29/2005 - 06/05/2005 06/05/2005 - 06/12/2005 06/12/2005 - 06/19/2005 06/19/2005 - 06/26/2005 06/26/2005 - 07/03/2005 07/03/2005 - 07/10/2005 07/10/2005 - 07/17/2005 07/17/2005 - 07/24/2005 07/24/2005 - 07/31/2005 07/31/2005 - 08/07/2005 08/07/2005 - 08/14/2005 08/14/2005 - 08/21/2005 08/21/2005 - 08/28/2005 08/28/2005 - 09/04/2005 09/04/2005 - 09/11/2005 09/11/2005 - 09/18/2005 09/18/2005 - 09/25/2005 09/25/2005 - 10/02/2005 10/02/2005 - 10/09/2005 10/09/2005 - 10/16/2005 10/16/2005 - 10/23/2005 10/23/2005 - 10/30/2005 10/30/2005 - 11/06/2005 11/06/2005 - 11/13/2005 11/13/2005 - 11/20/2005 11/20/2005 - 11/27/2005 11/27/2005 - 12/04/2005 12/04/2005 - 12/11/2005 12/11/2005 - 12/18/2005 12/18/2005 - 12/25/2005 12/25/2005 - 01/01/2006 01/01/2006 - 01/08/2006 01/08/2006 - 01/15/2006 01/15/2006 - 01/22/2006 01/22/2006 - 01/29/2006 01/29/2006 - 02/05/2006 02/05/2006 - 02/12/2006 02/12/2006 - 02/19/2006 02/19/2006 - 02/26/2006 02/26/2006 - 03/05/2006 03/05/2006 - 03/12/2006 03/12/2006 - 03/19/2006 03/19/2006 - 03/26/2006 03/26/2006 - 04/02/2006 04/02/2006 - 04/09/2006 04/09/2006 - 04/16/2006 04/16/2006 - 04/23/2006 04/23/2006 - 04/30/2006 04/30/2006 - 05/07/2006 05/07/2006 - 05/14/2006 05/14/2006 - 05/21/2006 05/21/2006 - 05/28/2006 05/28/2006 - 06/04/2006 06/04/2006 - 06/11/2006 06/11/2006 - 06/18/2006 06/18/2006 - 06/25/2006 06/25/2006 - 07/02/2006 07/02/2006 - 07/09/2006 07/09/2006 - 07/16/2006 07/16/2006 - 07/23/2006 07/23/2006 - 07/30/2006 07/30/2006 - 08/06/2006 08/06/2006 - 08/13/2006 08/13/2006 - 08/20/2006 08/20/2006 - 08/27/2006 08/27/2006 - 09/03/2006 09/03/2006 - 09/10/2006 09/10/2006 - 09/17/2006 09/17/2006 - 09/24/2006 09/24/2006 - 10/01/2006 10/01/2006 - 10/08/2006 10/08/2006 - 10/15/2006 10/15/2006 - 10/22/2006 10/22/2006 - 10/29/2006 10/29/2006 - 11/05/2006 11/05/2006 - 11/12/2006 11/12/2006 - 11/19/2006 11/19/2006 - 11/26/2006 11/26/2006 - 12/03/2006 12/03/2006 - 12/10/2006 12/10/2006 - 12/17/2006 12/17/2006 - 12/24/2006 12/24/2006 - 12/31/2006 12/31/2006 - 01/07/2007 01/07/2007 - 01/14/2007 01/14/2007 - 01/21/2007 01/21/2007 - 01/28/2007 01/28/2007 - 02/04/2007 02/04/2007 - 02/11/2007 02/11/2007 - 02/18/2007 02/18/2007 - 02/25/2007 02/25/2007 - 03/04/2007 03/04/2007 - 03/11/2007 03/11/2007 - 03/18/2007 03/18/2007 - 03/25/2007 03/25/2007 - 04/01/2007 04/01/2007 - 04/08/2007 04/08/2007 - 04/15/2007 04/15/2007 - 04/22/2007 04/22/2007 - 04/29/2007 04/29/2007 - 05/06/2007 05/06/2007 - 05/13/2007 05/13/2007 - 05/20/2007 05/20/2007 - 05/27/2007 05/27/2007 - 06/03/2007 06/03/2007 - 06/10/2007 06/10/2007 - 06/17/2007 06/17/2007 - 06/24/2007 06/24/2007 - 07/01/2007 07/01/2007 - 07/08/2007 07/08/2007 - 07/15/2007 07/15/2007 - 07/22/2007 07/22/2007 - 07/29/2007 07/29/2007 - 08/05/2007 08/05/2007 - 08/12/2007 08/12/2007 - 08/19/2007 08/19/2007 - 08/26/2007 08/26/2007 - 09/02/2007 09/02/2007 - 09/09/2007 09/09/2007 - 09/16/2007 09/16/2007 - 09/23/2007 09/23/2007 - 09/30/2007 09/30/2007 - 10/07/2007 10/07/2007 - 10/14/2007 10/14/2007 - 10/21/2007 10/21/2007 - 10/28/2007 10/28/2007 - 11/04/2007
---
DonnaGrayson.com Main Page
Donna's Music, Poetry, Acting Resume, and More ...