Donna in Hollywoodland
The blog from Los Angeles and Hollywood by Donna Grayson
Friday, April 08, 2005

Overheard at The Library




I stopped off at The Library where I had to return some books. I get in line. I hear a commotion going on. At the desk is a woman and two small little girls. They want to check out some library books.



The clerk says "Ma'am, you can't check out any books right now. You have five books checked out from February. You need to return them and pay the fine. Then you can check out more books."

The lady asked how much was the fine. It was somewhere in the double digits.

The lady said "We didn't know we had to bring them back. No one told me we had to return the books. If we were supposed to return them, you should have told me that."

The librarian explained "Ma'am, that is why we give you a green receipt with the Due Date on it."

The lady and her two kids walked away. Back to the bookshelves, with the books they were not allowed to check out.
The security guard followed them, laughing under his breath.


Vacation Day



Today I took a vacation day away from the office. My plans were to stay in the city, but mentally get away. But it doesn't look like I followed my plans. Originally, my plan of action was to attend a breakfast hosted by a local film organization. For the guest speakers they were going to have a casting director and a VP of a movie studio. Then, I planned to hang out at the beach. I live in L.A., but its been years since I've actually been down to the beach.




Then last night, as I was on the computer, I noticed blurbs popping up about Pope John Paul IIs Funeral. It started at 1:00 AM California time.
I decided to stay up and watch some of it.
Normally on a work-day I don't have to be into my office until 9:30 am . So I can get plenty of sleep no matter how late I am up.But staying up until 2:00 am to watch TV, then try to get up by 6:00 am to get to this Entertainment Industry Breakfast - just was not a good idea. I did wake up at 6 am. I drank a gallon of coffee . Then I tried to get dressed and ready. Realized I would have to stop off at the ATM machine. And then realized there was no way I was going to make it in time. And I was to wired on coffee to go back to sleep. So I was up and awake and there was nothing I could do about that.

So instead, I decided to treat myself to breakfast at House of Pies in Los Feliz. Its been such a long time since I've gone out to a restaurant for breakfast, it was a real treat. I read the Los Angeles Times and had French Toast with eggs and bacon.

As I sat there having my leisurely breakfast I started to question ... Basically, I chose watching the Pope's Funeral Mass on TV over the chance to meet a Casting Director and Movie Studio VP. Thats what happened when I stayed up way to late in order to wake up in time the next day. And I knew I was doing it when I did it. I knew it would seriously hinder my ability to wake up so early.

Yes, I was raised Catholic . But I became a born-again Christian in my 20s, attending mostly Pentecostal churches for a long time. In my 30s, I attended a really great Catholic church for a while, mainly because I couldn't find a Protestant church to attend, and that certain Catholic church had tons of activities. After moving to Hollywood, it took me years to find a church. I tried two independent Christian churches for a while, and now I attend a Presbyterian church.

So obviously Faith and Religion are important to me. But I think I found the Pope's Funeral important because we have so really few Great Leaders these days. And as I watched it, I didn't want to turn it off. I was moved by how people of so many different religious groups came to the Funeral. Even the leaders of the Lutherans and Methodists. The Jewish Rabbi of Rome was there, it turned out he was one of the Pope's closest friends. Its amazing to see the entire world Stop and Take Notice .... over the death of one man.

And you know, The Pope started out as an Actor & Playwright in his home country. Now that I find really amazing.






Thursday, April 07, 2005
Commercial audition


Today I had a audition for a big national brand product. I had been feeling so low and down because it had been a while since I had auditioned for anything that would actually pay, I was getting alittle sad about it. Then, to get a call from my Agent last night that out of the blue I was going in for a commercial for a very popular product. Oh, wow... things are looking up.
The role called for me to be in pajamas. The part was that I was asleep and had been rudely woken up. My audition time was 2 pm. I brought my jammies and some hair curlers. I got there about 1:40, and had plenty of time to go into the bathroom to change into my jammies and hair rollers.
There was no sign saying what room our specific audition was in, so I just looked for the little bunch of chubby women in pajamas. Thats where I was supposed to be.
Being that I am 40-something, and on the plus-size range of things.. you have to understand that I am walking into a room of other 40-something plus size women. It is a room filled with my Clones. We are all the same "Type". So as you read this, imagine a waiting room, filled with about 20 or more plus-sizes 40-ish women in their pajamas and curlers. This is Acting.
Now at this point, my brain starts to work overtime. "She's 10 years older than me - I wonder if what they want is someone older"? "She's 20 pounds heavier than me - I wonder if they want someone heavier". Or skinnier, or younger, or darker, or lighter. The Crazy Actress in my head freaks out alittle bit. I do my best to quiet her down and be at peace with my surroundings. And be Thankful to God that I have this opportunity.
Just as I am becoming "At One With the Universe" in the audition waiting area, the lady in pajamas next to me starts complaining...
loudly
. "Oh, how much longer do we have to wait ? I have somewhere to be. I got here at 2:00 because I thought they would see me at 2:00. I can't sit here and wait." Blah, Blah, Blah ...
I move to another seat, as far away from the Complaining Lady as possible - and I grin contently just in case anyone from the Casting Dept might mistaking associate me with her in any way.
In another Studio, they are auditioning handsome and beautiful upscale African-American young people dressed in formal evening wear, for a completely different Nationally Known Product. The men are in black tuxedos and suits. The women are in fancy cocktail dresses and slinky evening gowns.
I look up and see one of the cute 20-something black actors I know from a theatre company, he is dressed perfectly in a suit. And there I sit in my pajamas and curlers.
Only in Los Angeles ... Only in the Acting Business ....
We smile and say our "How are you's". But we are both to preoccupied with our separate auditions to be able to chat.
The Complaining Lady starts to complain again. "Gee, at least we didn't have to get all dressed up. Some of those women look like sluts."
So I move even farther away from her.
Another women starts talking out of the blue. (Why do some actors feel the need to blabber on when waiting for their turn to audition?")
"You know, I had to go out and buy these pajamas. I sleep in the Nude. I mean, everyone sleeps in the Nude. No one wears pajamas. I mean, who wears pajamas when you can just sleep in the Nude?" She says this to no one specific.
The Complaining Lady, of course, answers her. "You sleep in the Nude in California? Wonder if there is an Earthquake. You'd have to run out in your birthday suit. Maybe if you lived in Florida you could sleep in the nude. But in California, if there is an earthquake, and the building falls on top of you - they will find your body laying in the rubble in the nude. Do you want to die nude?"
By this time, there are no more chairs left... I can't move any further away.
I see the cute young actor I know from across the room. He waves and smiles. He is with his group of Upscale Young Black Actors and Actresses and they are about to go in for their audition in a different studio.
And I estimate that they are probably close to my name on the sign-in list. So I probably should just move closer to the door of the studio anyway. Sure enough, two more chubby women, and then its my turn.
My audition went okay. All you can really do is show up on time, do your best, and pray you are the right "type". And the thing I like about auditions is I always feel they are like little mini-acting classes. There is nothing like the Real Experience. And in this case, I did the scene once. The Casting Assistant behind the camera directed me and made some changes. Then I did my best to do it the way he directed me. And actually I think thats good, because you have to be able to show them that you can take direction and make changes to your performance.
Hurry up, out of my curlers and pajamas - and back into my street clothes. Hurry up, after a two hour lunch - back to my desk job. Staying an hour later after work to make up my extra long lunch break.
But all in all, it was a Good Day. Except for the Complaining Lady ... and the Lady Who Sleeps in The Nude .
Wednesday, April 06, 2005
Books, Books, Books
Today was a stressful day. I was busy working, and really nothing exciting - entertainment-wise -happened. So since I am ready to jump into bed after a glass of wine, I thought I would take a minute to share the last few books that I read.

The Great Divorce
by
C.S. Lewis
This is the first CS Lewis book I have read, and it makes me want to read more.
The is a very deep book. It is a fictional story dealing with Heaven and Hell. And the characters have just died, and they are going to one place or the other. The book deals with how they get to Heaven or Hell - and what makes them end up there. I don't know if they are in purgatory, or just a park that is some kind of holding area. But according to Lewis, you are pretty see-through when you first arrive in this place. And you get more solid the more spiritual you get. Or something like that. Maybe I didn't understand it all, but it is an amazing story.
Simple Abundance : Living by Your Own Lights
by
Sarah Ban Breathnach
Okay, this book is indeed "simple". At times its almost dumb, it is so simple. But since I am living the life of a hurried city dweller involved in the entertainment industry - this book dealt with deep issues that, for me, where painful to think about at times. It one of those books that makes you slow down and think of really personal issues. Your living space. How you cook your meals. The clothes that you wear. Do you take time to meditate and just be grateful for what you have. Yikes ! This book serves as a strong reminder of the important basics in life. The only thing is that its gives the "New-Agey" view of things. But if you can bypass the New-Age element, it is a great book about day to day life.
And now for something Completely Different ....
Proving that I enjoy reading a wide range of material :
Running with Scissors: A Memoir
by
Augusten Burroughs
A memoir about growing up in a dysfunctional wild household. Being raised by your mother's psychiatrist. This book gets alittle raunchy. So if you are easily offended, you might want to skip it. But it is also totally amazing - and totally believable - that someone grew up like this. I laughed, I was amazed. I enjoyed it. It is being
made into a movie
as I write.
And
Kristin Chenoweth
has been cast in the role. There are some rumors that she might have one of the spicier roles in the movie ... wouldn't that be interesting ?
Tuesday, April 05, 2005
Vampires and Buffy
The volunteers usually arrive an hour before the show. The public forms a line outside, and we take tickets about a half hour before the show.
Tonight was my turn to take the Marketing Survey to find out where the theatre patrons read or heard about the movie, to help The Egyptian, which is a non-profit organization, decide where to spend their advertising dollars.
I was hanging out in the lobby with the other volunteers waiting for the time to open the doors to the public. Two average looking 20-something guys knocked on the glass doors.
"Ve zeek Poovy" the first one said.
"I beg your Pardon".
"Iz dis Poovy ?" Said the other.
"I'm sorry, I don't understand."
"Poovy. Poovy. Poovy Vamp-i-re Zla-ger". Said the first guy.
"Oh....Buffy the Vampire Slayer ! " I had finally figured them out. "Yes, this is where it is showing. But we aren't seating the public for another 10 minutes. So if you could please just wait a few minutes."
"Ahhhh" said the second guy. And they headed back down the courtyard.
I headed back over to the other volunteers. "Gee, those tourists have the funniest accents. It might have been French, or maybe German. Maybe Dutch. Hmmmm."
It turned to 7 pm, and we started to take tickets. I was busy asking the theatre patrons, "Excuse me, how did you hear about our movie tonight". It was now 7:25 and the movie was supposed to start in 5 minutes. No tourists. I was worried. Did they head out on Hollywood Blvd and get lost ? I hoped I didn't send them away only to have them get lost and miss their movie.
I asked the other volunteers, "Did you ever see those French/German tourists come back in?" No, no one saw them.
Finally, just minutes before the movie started, I saw them coming up the courtyard towards the theatre doors. "Oh, good, there they are."
As the other volunteer tore their ticket stub, I perked up "Excuse me, how did you find out about our movie tonight ?"
"Ve zaw on ze internet and ve came". Then it struck me - it was a
Transylvanian
Accent !
But they were just average looking 20-something year old guys in blue jeans and windbreaker jackets.
Or .... were they Vampires ?
Vampires showing up to watch the Buffy movie ???
I wonder if there will be any space Aliens who come by in a few weeks to catch
Star Wars
.
---

By the way, if you have never watched the 1992 "Buffy The Vampire Slayer" movie, you have to catch it. It is great fun, and hysterically funny.
Hilary Swank plays a Valley Girl. There is no indication whatsoever that her acting will go on to win Two Oscars.
Paul Reubens (Pee Wee Herman) is a Vampire. And he is perfect in his role.
And Ben Affleck , of all people, has a tiny part as a Basketball Player on the school team.
Its a great fun movie to watch.



Monday, April 04, 2005
Life Is Like a TV Show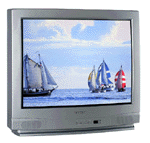 So last night as I was surfing around other blogs ,I was also watching "Desperate Housewives" . Yes, I am a Multi-tasker .

I look up, and there on the TV set is someone I know. With lines and everything.
Dagney Kerr I worked with her on the last short film I was in, Fly On the Wall. As a matter of fact,my DVD copy just arrived a few days ago.
On "Desperate Housewives she played the nurse (red hair) who found the mother, Juanita Solis - played by Lupe Ontiveros - at the base of the stairs, and then later had to talk to Eva Longoria's character, Gabrielle Solis, about what happened when the mother died.
I was sooo excited, I sent her an email right away. Someone I know on TV,
with lines
.
Wow ... its gives me hope for my Acting Career.
After a good nights sleep ... The morning was weird because of the time change. Sitting with my cat and having my cup of half-caf coffee, I was wondering why the weather was so overcast. Then it dawned on me... oh, its the time change, its darker in the morning.
So I go to drive into our building employee parking. Movie trucks all over the place.
About 10 of them. They were filming something at the
Coffee Bean
. There were all sorts of movie lights and equipment set outside the Coffee Bean.
I asked around upstairs, and turns out they were filming an episode of
Six Feet Under
.
Right there numerous floors beneath me and my messy desk.
I did not make it downstairs in time to enjoy some of the free coffee the Coffee Bean was giving away.
Ah, such is the life in Hollywood ... just one Big TV show ....
Sunday, April 03, 2005
Bitter and Old
I went to the
Egyptian Theatre
and I saw a screening of
The Horseman
. It is a foreign film from Croatia and was part of the
Cinema Croatia
series.
The Horseman is set way back in the
Ottoman Empire
, around the 1400s. A young Muslim Woman and a Christian Man fall in love and want to be together.
The Muslim woman decides to convert in order to help her gain passageway to Austria where she is hoping to meet up with her lover in the future. Back in the days of the Ottoman Empire, they would kill you for something like that. She was told if she went back to her Muslim village after being with a Christian man, they would drown her. Its a historical romance.
So there's lot of bloodshed, and some people get their bodyparts sliced off with swords. Theres lot of politics as Priests and Government Officials try to manipulate the situation. Its an interesting look at how religion and politics were treated in those days. But its basically a "Romeo and Juliet" type tale about two people in love who are not allowed to be together back in the Ottoman Empire.
During the movie, I had a coughing spell and had to leave the theatre for a bit. (Left over from my pnuemonia over the Christmas Holidays.) So I missed part of the movie.
After it was over, I started to talk to a woman that I don't know very well. Maybe she is 10 years older than me, in her 50s. I tell her I missed part of the movie, and ask her what happened.
She looks at me "You know, this movie just made me so mad. I hate to Male Bash, but men are such jerks. A movie like this just proves to me what idiots men are. Men are just horrible, that one man didn't have to kill that person. He was just being a big male jerk." And she went like this for alittle bit.
I just looked at her. I didn't know what to say. I mean, the movie is the Ottoman Empire, when practically everyone was out of control. Its mainly about Religion and Romance. There is plenty of historical significance. I was pretty stunned that she saw the movie through such a warped view. It appeared to me that she never saw anything else about the story. Obviously she has her own issues going on, and what she saw was filtered through that.
And she never answered my question about what happened in the plot. Later on, I found someone else to ask about the part of the movie I missed and got a much better explaination.
I've seen some of my friends get like this. And I have really tried as I get older to not become bitter. But it is sad to see some woman go through romantic rejection after rejection and become bitter and hard. There are a few friends I know that would classify as "man haters", and yet they are still looking for a husband. And then there are women that I know whose attitude is to just give up and they figure they are to old to find romance. I know as I get older, I see my options become smaller and smaller and I sometimes feel that way.
I really make an effort to try to keep a young spirit and stay open-minded about it.
It seems to be a problem that is common in our culture, especially in the big city.
The Day for Song Lyrics
Okay, this was what I was originally going to post about - before
my next Door Neighbor
started to belt out her vocal arrangements.
Today, we had to "Spring Ahead". I set my clock one hour ahead before I went to bed last night. I was trying not to be an usher at
church today
because I knew the time change would mess me up. I guess alot of other people were thinking the same thing, because they sent out an email last night that they needed people. I tried to get there as soon as I could, which was just as service was starting. And considering we missed an hour of sleep, that was pretty good for me. I looked around and the place was pretty empty. It is amazing how many people were actually one hour late for church. They walked in, and the sermon was over - Huh ? They looked alittle confused.
Whenever the time changes its always difficult. Its good they don't do it on a work day. This way it just messes up all the church-goers.

I guess today is the day for song Lyrics because I wanted to post the lyrics to "How Great Thou Art".
We sang it in church this morning. Except at our church it had a country/western rock-a-billy feel to it, with electric guitars with a twang.I really liked the way they rocked it out. I should have asked the guitarist how he did it.

How Great Thou Art
O Lord my God, When I in awesome wonder,
Consider all the worlds Thy Hands have made;
I see the stars, I hear the rolling thunder,
Thy power throughout the universe displayed.
Then sings my soul, My Saviour God, to Thee,
How great Thou art, How great Thou art.
Then sings my soul, My Saviour God, to Thee,
How great Thou art, How great Thou art!
When through the woods, and forest glades I wander,
And hear the birds sing sweetly in the trees.
When I look down, from lofty mountain grandeur
And see the brook, and feel the gentle breeze.
Then sings my soul, My Saviour God, to Thee,
How great Thou art, How great Thou art.
Then sings my soul, My Saviour God, to Thee,
How great Thou art, How great Thou art!
And when I think, that God, His Son not sparing;
Sent Him to die, I scarce can take it in;
That on the Cross, my burden gladly bearing,
He bled and died to take away my sin.
Then sings my soul, My Saviour God, to Thee,
How great Thou art, How great Thou art.
Then sings my soul, My Saviour God, to Thee,
How great Thou art, How great Thou art!
When Christ shall come, with shout of acclamation,
And take me home, what joy shall fill my heart.
Then I shall bow, in humble adoration,
And then proclaim: "My God, how great Thou art!"
Then sings my soul, My Saviour God, to Thee,
How great Thou art, How great Thou art.
Then sings my soul, My Saviour God, to Thee,
How great Thou art, How great Thou art!
WannaBe in the Afternoon

I am here at the computer trying to type in my blog for the day.
Having a Peanut Butter and jelly and banana sandwich on whole wheat bread for lunch.

In the next apartment building over, there is a American Idol Wanna-Be rehearsing the Celine Dion song "The Power of Love" over and over and over.
She's actually doing okay except when she hits those long notes where she has to hold. Is it the word "Love" ? - I can't tell.
I might actually be able to deal with it if she had some musical accompaniment - and if this wasn't the tenth flippin' time she had sang the exact same song.
The girl needs to take a break and give her voice (and my ears) a rest.

The Power of Love
Written By:
G. Mende, C. DeRouge, J. Rush, M.S. Applegate
Lyrics:
The whispers in the morning
Of lovers sleeping tight
Are rolling by like thunder now
As I look in your eyes
I hold on to your body
And feel each move you make
Your voice is warm and tender
A love that I could not forsake
'Cause I am your lady
And you are my man
Whenever you reach for me
I'll do all that I can
Lost is how I'm feeling lying in your arms
When the world outside's too
Much to take
That all ends when I'm with you
Even though there may be times
It seems I'm far away
Never wonder where I am
'Cause I am always by your side
'Cause I am your lady
And you are my man
Whenever you reach for me
I'll do all that I can
We're heading for something
Somewhere I've never been
Sometimes I am frightened
But I'm ready to learn
Of the power of love
The sound of your heart beating
Made it clear
Suddenly the feeling that I can't go on
Is light years away
'Cause I am your lady
And you are my man
Whenever you reach for me
I'll do all that I can
We're heading for something
Somewhere I've never been
Sometimes I am frightened
But I'm ready to learn
Of the power of love
Archives
08/26/1990 - 09/02/1990 12/07/2003 - 12/14/2003 12/14/2003 - 12/21/2003 12/21/2003 - 12/28/2003 12/28/2003 - 01/04/2004 01/11/2004 - 01/18/2004 01/25/2004 - 02/01/2004 02/01/2004 - 02/08/2004 02/08/2004 - 02/15/2004 03/07/2004 - 03/14/2004 04/18/2004 - 04/25/2004 05/23/2004 - 05/30/2004 05/30/2004 - 06/06/2004 06/06/2004 - 06/13/2004 06/27/2004 - 07/04/2004 08/22/2004 - 08/29/2004 09/05/2004 - 09/12/2004 09/26/2004 - 10/03/2004 10/10/2004 - 10/17/2004 11/14/2004 - 11/21/2004 12/26/2004 - 01/02/2005 01/02/2005 - 01/09/2005 01/23/2005 - 01/30/2005 01/30/2005 - 02/06/2005 02/06/2005 - 02/13/2005 02/13/2005 - 02/20/2005 02/20/2005 - 02/27/2005 02/27/2005 - 03/06/2005 03/06/2005 - 03/13/2005 03/13/2005 - 03/20/2005 03/20/2005 - 03/27/2005 03/27/2005 - 04/03/2005 04/03/2005 - 04/10/2005 04/10/2005 - 04/17/2005 04/17/2005 - 04/24/2005 04/24/2005 - 05/01/2005 05/01/2005 - 05/08/2005 05/08/2005 - 05/15/2005 05/15/2005 - 05/22/2005 05/22/2005 - 05/29/2005 05/29/2005 - 06/05/2005 06/05/2005 - 06/12/2005 06/12/2005 - 06/19/2005 06/19/2005 - 06/26/2005 06/26/2005 - 07/03/2005 07/03/2005 - 07/10/2005 07/10/2005 - 07/17/2005 07/17/2005 - 07/24/2005 07/24/2005 - 07/31/2005 07/31/2005 - 08/07/2005 08/07/2005 - 08/14/2005 08/14/2005 - 08/21/2005 08/21/2005 - 08/28/2005 08/28/2005 - 09/04/2005 09/04/2005 - 09/11/2005 09/11/2005 - 09/18/2005 09/18/2005 - 09/25/2005 09/25/2005 - 10/02/2005 10/02/2005 - 10/09/2005 10/09/2005 - 10/16/2005 10/16/2005 - 10/23/2005 10/23/2005 - 10/30/2005 10/30/2005 - 11/06/2005 11/06/2005 - 11/13/2005 11/13/2005 - 11/20/2005 11/20/2005 - 11/27/2005 11/27/2005 - 12/04/2005 12/04/2005 - 12/11/2005 12/11/2005 - 12/18/2005 12/18/2005 - 12/25/2005 12/25/2005 - 01/01/2006 01/01/2006 - 01/08/2006 01/08/2006 - 01/15/2006 01/15/2006 - 01/22/2006 01/22/2006 - 01/29/2006 01/29/2006 - 02/05/2006 02/05/2006 - 02/12/2006 02/12/2006 - 02/19/2006 02/19/2006 - 02/26/2006 02/26/2006 - 03/05/2006 03/05/2006 - 03/12/2006 03/12/2006 - 03/19/2006 03/19/2006 - 03/26/2006 03/26/2006 - 04/02/2006 04/02/2006 - 04/09/2006 04/09/2006 - 04/16/2006 04/16/2006 - 04/23/2006 04/23/2006 - 04/30/2006 04/30/2006 - 05/07/2006 05/07/2006 - 05/14/2006 05/14/2006 - 05/21/2006 05/21/2006 - 05/28/2006 05/28/2006 - 06/04/2006 06/04/2006 - 06/11/2006 06/11/2006 - 06/18/2006 06/18/2006 - 06/25/2006 06/25/2006 - 07/02/2006 07/02/2006 - 07/09/2006 07/09/2006 - 07/16/2006 07/16/2006 - 07/23/2006 07/23/2006 - 07/30/2006 07/30/2006 - 08/06/2006 08/06/2006 - 08/13/2006 08/13/2006 - 08/20/2006 08/20/2006 - 08/27/2006 08/27/2006 - 09/03/2006 09/03/2006 - 09/10/2006 09/10/2006 - 09/17/2006 09/17/2006 - 09/24/2006 09/24/2006 - 10/01/2006 10/01/2006 - 10/08/2006 10/08/2006 - 10/15/2006 10/15/2006 - 10/22/2006 10/22/2006 - 10/29/2006 10/29/2006 - 11/05/2006 11/05/2006 - 11/12/2006 11/12/2006 - 11/19/2006 11/19/2006 - 11/26/2006 11/26/2006 - 12/03/2006 12/03/2006 - 12/10/2006 12/10/2006 - 12/17/2006 12/17/2006 - 12/24/2006 12/24/2006 - 12/31/2006 12/31/2006 - 01/07/2007 01/07/2007 - 01/14/2007 01/14/2007 - 01/21/2007 01/21/2007 - 01/28/2007 01/28/2007 - 02/04/2007 02/04/2007 - 02/11/2007 02/11/2007 - 02/18/2007 02/18/2007 - 02/25/2007 02/25/2007 - 03/04/2007 03/04/2007 - 03/11/2007 03/11/2007 - 03/18/2007 03/18/2007 - 03/25/2007 03/25/2007 - 04/01/2007 04/01/2007 - 04/08/2007 04/08/2007 - 04/15/2007 04/15/2007 - 04/22/2007 04/22/2007 - 04/29/2007 04/29/2007 - 05/06/2007 05/06/2007 - 05/13/2007 05/13/2007 - 05/20/2007 05/20/2007 - 05/27/2007 05/27/2007 - 06/03/2007 06/03/2007 - 06/10/2007 06/10/2007 - 06/17/2007 06/17/2007 - 06/24/2007 06/24/2007 - 07/01/2007 07/01/2007 - 07/08/2007 07/08/2007 - 07/15/2007 07/15/2007 - 07/22/2007 07/22/2007 - 07/29/2007 07/29/2007 - 08/05/2007 08/05/2007 - 08/12/2007 08/12/2007 - 08/19/2007 08/19/2007 - 08/26/2007 08/26/2007 - 09/02/2007 09/02/2007 - 09/09/2007 09/09/2007 - 09/16/2007 09/16/2007 - 09/23/2007 09/23/2007 - 09/30/2007 09/30/2007 - 10/07/2007 10/07/2007 - 10/14/2007 10/14/2007 - 10/21/2007 10/21/2007 - 10/28/2007 10/28/2007 - 11/04/2007
---
DonnaGrayson.com Main Page
Donna's Music, Poetry, Acting Resume, and More ...