Sucky Cat

So every morning, Cinnamon the cat waits by the couch. I get my newspaper and half-caf coffee and reading glasses.
And the minute I sit down, she jumps up on my lap.
Every morning we have a Kitty-Cat hugging session. For about 15 to 30 minutes, depending on the mood of the Cat.
Then I read the paper and finish my coffee, before getting ready for work.

Well, this morning I am scratching Cinnamons ears. My arm was in front of her face. She puts her mouth on the side of my arm, like she
is going to bite me .... but instead she starts to suck.
She is sucking my arm while I scratch her ears.

Now, Cinnamon is not a kitten. She is about 9 years old. Maybe older.

I finally said to Cinnamon "Are you trying to give me a hicky ?"
She has regressed back to being a kitten.

Pictures of the spoiled cat ...



Oh, Cinnamon loves to have a tummy-rub


Sound asleep in the middle of the day ... isn't it nice ?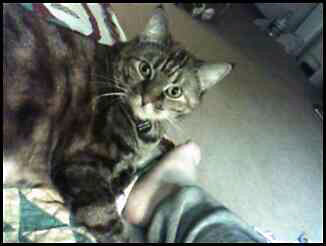 Cinnamon doesn't mind my stinky feet


Sometimes my stinky feet make a nice pillow for that afternoon nap


And of course, Cinnamon loves to have her chin scratched !