Smog Check, Austin Powers and Norma Desmond

I took today off as a vacation day. I figure with Monday being a holiday it would be a nice way to get some extra relaxation. Besides I needed to run some errands.

One of which was the very painful..... Car Smog Check for my Automobile registration.
I really didn't think I would pass. The car is so overdue for everything.
But I did pass... just barely..... by a few points that was it. The guy told me I need to make sure I came back for a Tune Up, Oil Change and Break Job - all of which I already knew I needed.

As I was waiting for my car, I saw this beautiful reflection of a church steeple on an office building wall :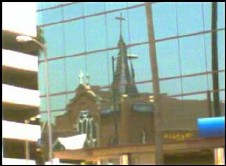 After I was done with all the necessary Automobile stuff, I headed over to the Arclight to see Sin City

After I parked in the Arclight parking structure, I headed over to the elevators to go down to the lobby level. When I got to the elevator, there was a guy standing there dressed exactly like "Austin Powers" .

I was thinking "Oh, no I have to ride in the elevator with this weird person".
We are in the elevator and he said something ending in "groovy"... and I said "Oh, looks like Arclight is having a Special Event today." - referring to his costume.
Austin Powers replied "Oh, no special event ... every day's a special event ... its all groovy baby."
I must have had a look on my face that said "Oh great I'm in the elevator with a kook" ... because Austin continued "Actually, its alittle boys birthday party .... we're going to see Madagascar and then we are riding in a Limo to a pizza parlor".
I said "Oh, that sounds like alot of fun".
So Austin Powers wasn't a kook after all. He's just an out of work actor performing at children's birthday partys.
As Austin-in-the-Elevator said "Yeah, its all groovy".

As I was buying my tickets, the sales clerk mumbled "Why is there a guy dressed like Austin Powers in the lobby?"
I replied "Oh, he's doing a children birthday party at the Madagascar screening."
That satisfied the ticket clerk.

As for Sin City .. .I am so way behind on my current movies. I haven't seen anything in ages. And I think this is the last place to play this movie I really liked alot of the actors in it, so I wanted to see it. Wow, was that a wild movie. It felt just like being in a graphic novel or detective comic strip.

Then later on in the evening, I went to the Egyptian to see "Sunset Boulevard".
It was nice to go to the Egyptian and be a patron for once. I used one of my vouchers from when I was Volunteer Captain, and got to see the movie for free.
The theatre was really packed, they had a huge turn-out for "Sunset Blvd".
Oh, my favorite line :
When Joe says to her "You're Norma Desmond. You used to be in silent pictures. You used to be big"
And Gloria Swanson replies:
"I am big. It's the pictures that got small."